When we dine at Fresco, we usually dine camera-less, free from even the thought of work or food photography.  It's hard but I put my phone away and just savor every moment of our drawn-out meal together. Even if we come in early in the evening we can't help but stay for a couple of hours just enjoying each course, each sip, and the refreshment of falling back in love with food all over again.  We go to reconnect with each other and remember why we plunged into the local food industry in the first place.  Food comforts us and we hope for it to comfort others.
At Fresco we, without fail, are comforted by the food set in front of us.  On this particular trip, we did bring our camera and jotted down a few notes, because we felt we needed to share some of the inspiration that this little cafe has given us.  This season Fresco is really showing off using some of the most interesting fresh ingredients like sunchokes, parsnips, Kabocha squash, Brussels Sprouts, fennel, and wild mushrooms.  Here's what we chose on our special occasion –
Roasted beets with citrus, pinenuts and basil oil.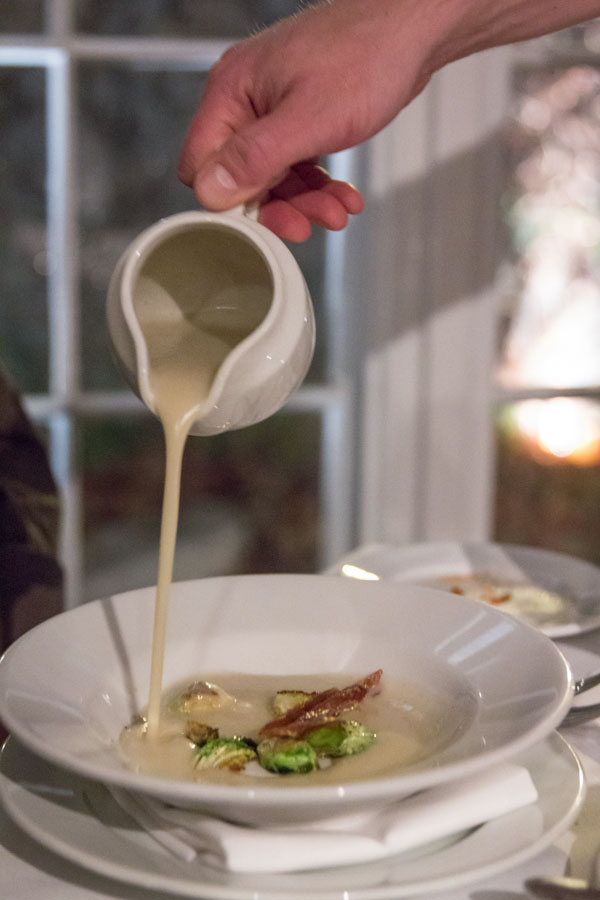 Creamy Sunchoke Soup with Roasted Brussels Sprouts.
Baby Kale Salad with local squash, goat cheese, marcona almonds and honeycomb vinaigrette.
A little amuse buche from the chef to cleanse our pallet before enjoying our entrees. (Fresco always serves little bites in between courses to all of their guests!)
Sweet Potato and Chestnut Ravioli topped with Brussels Sprouts, black currants, and ricotta salata.
Ricotta Cavatelli with lamb and calabrian sausage ragu and Pecorino.
Fresco had a recent remodel which could easily go unnoticed unless your a frequent diner there.  They changed up the color of the walls, hid some sound absorbing materials in the wall and put up some new decor.  The atmosphere is simple but that's what we find charming.  They are willing to be small. When we go, we love to reserve the seat by the fireplace- I sit closest to the fireplace and keep my feet cosy warm and Josh grabs the seat by the window. We could sit and talk there for hours and now, with the new changes, intimate conversations of the diners are more hidden and private.
We also learned a few new things about our favorite little restaurant on this trip. Like the fact that it used to be the home of the neighboring gas station's owner (what's now the Kings English).  After that, the home was turned into a cafe that served a famous pot roast. I like to this the legendary food continues and Fresco will always have food that people come back for – like their gnocchi (my favorite in town), and their Polenta with Wild Mushrooms appetizer (a dish we get on every visit).
Dinner at Fresco could not be complete without a cup of coffee (there now serving Charming Beard which is awesome!!) and a jar of their Chocolate Almond Crema. It's smooth, rich and so creamy that I just want to slowly eat every bite to fully enjoy it. We usually have to literally split it down the middle so we can each enjoy our half. On this visit we also tried their Zeppole, cinnamon sugared donuts, served with lemon curd and dates.  These were so good that I may have to add them to our regular order.  The lemon curd was just right, not too creamy or gelatinous and the donuts were cooked perfectly, almost doughy in the center, and the perfect match to the tart curd.
Oh my oh my!!  What a truely magical meal.  I always leave with a smile on my face and more excited about food and the food industry in Salt Lake than ever.  Thank you Fresco for what you are doing in our little community and for the little times of refreshment that you have given my husband and I!
1513 South 1500 East