This article is written by Mary McIntyre, a new photographer/writer for theSLCfoodie.com.
Finca is a Salt Lake City restaurant focused on Spanish tapas from local products. The 'Farm-to-Table' restaurant was opened in 2012 by Pago owner Scott Evans. It's often packed during dinner and is fairly busy for lunch as well.  Until a few weeks ago, I was unaware that Finca also serves a delightful Sunday brunch. Since discovering their tapas-style brunch, I've been back almost every weekend.
With so many visits under my belt, I've tasted a significant portion of the menu. The Mel I Mato has been a favorite every visit. The house-made ricotta is creamy and slightly sweet, the perfect accompaniment to ripe berries, crunchy walnuts, and local Clifford Farms honey.
The Ensalada de Remolacha (pictured below) features the house ricotta in a savory mixture of beets, local greens, and pickled strawberries – a very different presentation of the cheese, but equally tasty!  Don't be scared of the pickled strawberries.
These Tapas are great accompanied by one of the house cocktails or a simple orange (or grapefruit) mimosa. The Mezcalrita has been my drink of choice – a simple, limey margarita with the tequila replaced by mezcal.  I've also tried the house Bloody Mary, which is definitely for those who like it hot! For Cinco de Mayo, I tried an equally spicy cocktail in which the vodka in a Bloody Mary was replaced with tequila- the Bloody Maria was born!
As for main dishes or Platos Grandes, the Tortilla de Setas is a delicious omelet-frittata hybrid made with Clifford Farms eggs, goat cheese from Snowy Mountain Creamery, mushrooms, and caramelized onions.  The mushrooms and onions are fried with the eggs and then folded in half with melted goat cheese in the middle.  Served with locally grown, crispy, paprika-laden house potatoes and garlic aioli, the omelet is a perfect breakfast.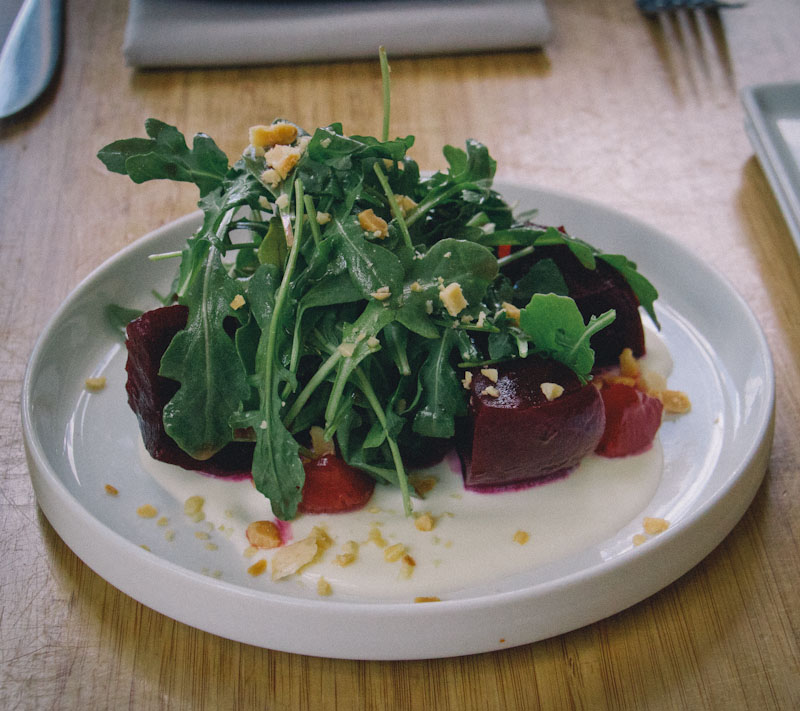 Other items I've tried are the Huevos Benedict (the house hollandaise is great), the Orange Olive Oil Pancakes (fluffy and subtly citrusy), the Gazpacho de Guisante (chilled green soup made with peas and topped with crème fraiche and mint) and the Magdalenas (Spanish lemon cake).  I haven't had anything I wouldn't recommend yet!
As a parting gift (maybe a sign that I've been eating here too much..) the manager asked us to sample some fresh-squeezed Valencia orange juice that they are considering adding to the menu. Refreshing, tart, and slightly sweet, it was the ultimate way to end the meal.
Sunday Brunch 10am-3pm.