Claiming the award of Salt Lake City's Best Italian Food Restaurant called me in for a second visit to Sea Salt.  My first dining experience at Sea Salt was when they first opened and although I did enjoy it, I found it to be a bit pricey so I hadn't been back since.  On this visit, we went for lunch and still paid a pretty penny but enjoyed our meal none the less.
From the looks of these photos you'll notice two things, 1) I dined with all women so we may have ordered lighter than the average crowd and 2) Sea Salt serves up lots of fresh produce!   Several of us ordered salads, veggies, and soups all loaded with crisp fresh vegetables served in traditional Italian style.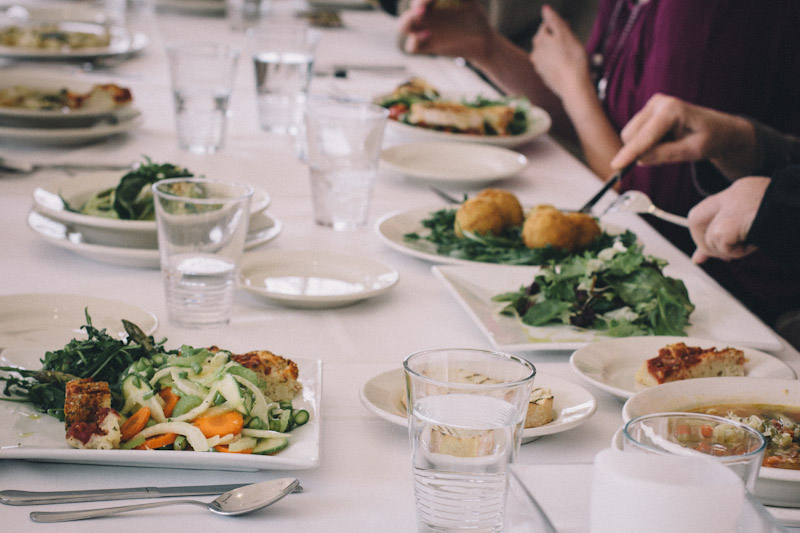 All entrees were enjoyed but the gnocci truly stood out. They have three different gnocchi options on their lunch menu: Gnocchi ai Cinque Formaggi – (5 cheese gnocchi) gorgonzola dolce, fontina, robiola bosina, rocchetta alta langa, and grana padano, garnished with rosemary; Gnocchi alla Bolognese con Funghi – (gnocchi with wild mushrooms) salsa bolognese, wild mushrooms, and grana padano;  Gnudi al Burro e Salvia – a larger gnocchi made with Tuscan ricotta and spinach, topped with a sage brown butter.   Throughout the table we had at least one of each of these and everyone who ordered the gnocchi agreed that it was amazing!
For lunch at Sea Salt you'll also find, antipastas, pizzas, soups, salads, and pasta.  The great thing about their pizzas is that they're pretty customizable with over 25 toppings that you can add on, from anchovies to house fennel sausage.  As for the salads, we tried the Vegetable Crudo with raw beet, carrot, fennel, celery, arugula, sea salt, preserved lemon and extra virgin olive oil; a simple salad but like much of the best Italian food, the simplest is often the best. If you're more of a panini fan, I highly recommend the Grilled Chicken Breast, Artichoke Heart and Aged Provolone Panini served with kalamata olives, oven dried tomato pesto and arugula.
Expect top quality ingredient and freshness as well as friendly service and a bright and open environment.  We came in expecting a lot after they were given such an honorable award by Salt Lake Magazine.  If you dine at Sea Salt for lunch expect to pay dinner prices.  You'll be very satisfied at the end of your meal.
Sea Salt
1709 East 1300 South
Lunch – Monday – Friday 11:30-2pm
Dinner – Monday – Thursday 5-9pm, Friday – Saturday 5-9:30pm