This weekend Victoria Tropham showed us a thing or two about chocolate in her kitchen at Piñon Market.  Not only did she graciously let us behind the scenes in her cafe's kitchen, she gave us the reigns as we made her special recipe for a Flourless Chocolate Torte.  We chopped chocolate, single-handedly cracked eggs, and simmered a brown sugar butter mixture… all of which would be turned into the most delicious chocolate torte we had ever tasted.
As we waited for the tortes to finish baking, we learned teqniques in tempering chocolate, creating chocolate ganache, and decorating with chocolate.  We would all leave with new skills to make professional desserts at home.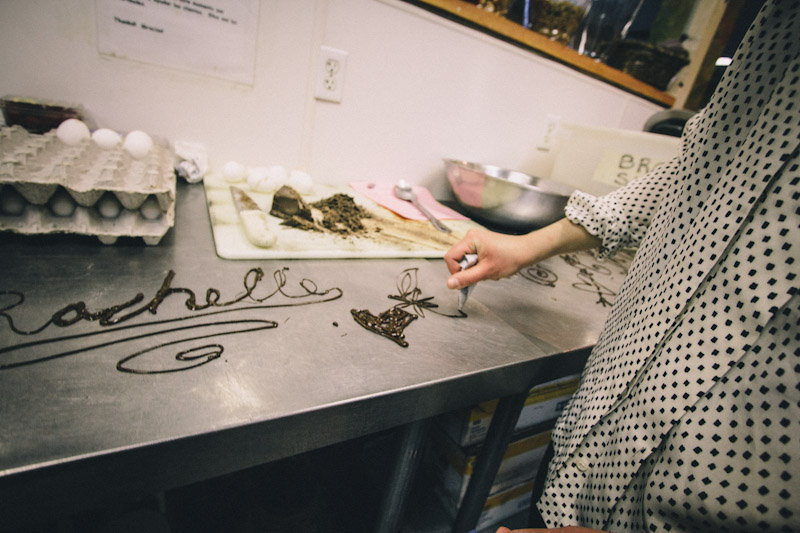 What we love so much about Victoria is not only her generosity in sharing her special tips and tricks but also her enthusiasm for getting us all into the kitchen!  Her hope is not even that we'd all return to Piñon for one of her desserts or for a full meal, but that we'd get back into our kitchens at home and try out some of these recipes!  I think it's that same passion and care that keeps her customers returning year after year (Piñon has been open for 18 years!).  She is not just generous with special groups like ours but she is generous with ever customer that comes in, taking time to talk to everyone and catch up with those that come in regularly.  Piñon is the perfect combination of tasty fresh cooked foods and local personality.
After the evening was over, I was ready to step back into my kitchen to create something new and delicious. Victoria's enthusiasm had definitely caught on for me and I'm sure for others also.
Special thanks to Victoria Tropham at Piñon Market and Ruth Kendrick from Chocolot.  We all took home cookies, brownies, and a box of chocolates to help make Valentine's Day last as long as possible.  To gift your Valentine some of these treats visit Piñon Market or Les Madeleines for Chocolot confections.