Executive Chef Jesse McDannell stood by our table for a bit telling us all about the good things happening up at the Escala Provisions Company.  There's a lot of opportunity for EPC being located in the heart of the Canyons Ski Resort.  Though they're owned by an international company, Chef Jesse has the freedom to make EPC as local as possible.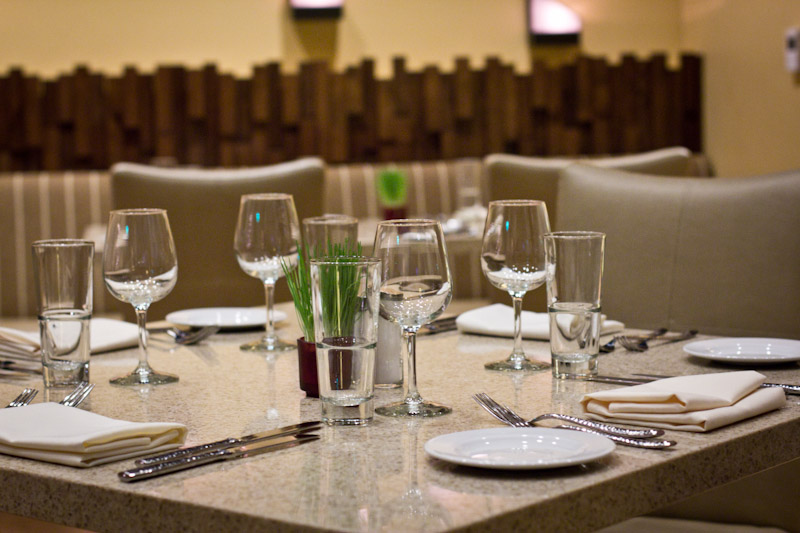 EPC sources Niman Ranch, Miller Honey, Beehive Cheese, Cox Honey, Willis Farm, Pierre Bakery breads among others.  We started our evening with an incredible plate of 9 grain bread from Pierre.  It was as tasty as any 9 grain I've had and beautiful to boot.
Not long after the bread came out, we had split pea soup with mint creme friache and thick slices of pork belly.  Honestly, we could have (and perhaps should have) stopped here.  Between the bread and the hearty soup, we were certainly satisfied, but onward we must go.
We were fascinated to hear that they hired Alice Waters who teamed up with 11-year-old food blogger Haley Thomas to build the kids menu.  It's "for kids by kids" they say.  Yes, we'll be parents soon and I can foresee looking for a great babysitter to allow Becky and I to go out on nice dates because our local favorites aren't necessarily kid-friendly, which is more than ok.  Mom and dad will need some date nights alone.  But perhaps EPC wouldn't mind your kids coming along.  They've got a fun menu just for them.
Chef Jesse said their motto is Food. Thoughfully Sourced. Carefully Served.  I know, I know.  Some of you locavores like ourselves are saying, "how can an international hotel chain really be providing something thoughtful and tasty?"  They're making a strong effort and we think Chef Jesse is the right chef for the job.  He visits all his tables when possible.  He talks with customers.  He answers their questions and, in our opinion, fighting the stereotype that a hotel restaurant can't be good.  He really does seem to work hard to source well.  Well done, Jesse.