I know it's been a week or more since this event but I couldn't resist sharing with you some of the photos and food tips from the event. Red Wine and Fish was supported by Fog River, a local seafood provider, and Jimmy Santangelo, a local wine educator.  During our Sunday afternoon of wine sipping and small bites, we learned how to break all the rules when pairing wine and fish.  The stereotypical white wine and fish combo was barely mentioned as we journeyed through three fish courses thoughtfully pared with red wines.
One of the best tips of the afternoon was to think about the sauces or seasonings in the fish to pair the fish well. For instance, a halibut wouldn't normally be paired with a deep red wine but if you add a wild mushroom cream sauce over the fish, it magically couples well with a Barbara Italian Red.
Our last fish course was a Recipe Hazelnut Crusted Steelhead Trout, which you can make yourself with the recipe I posted on The Vintage Mixer recipe blog. It was my favorite of the evening.  The Steelhead Trout was served over a bed of arugula with a local brand of sun-dried cherries (Allgood Provisions).
If after the meal you were interested in buying and cooking some of the same fish, Fog River is now open to the public  Fog River is located at 1360 South Redwood Road, and opens up their warehouse every Saturday to the general public. You can visit the Fog River website for their full list of offerings.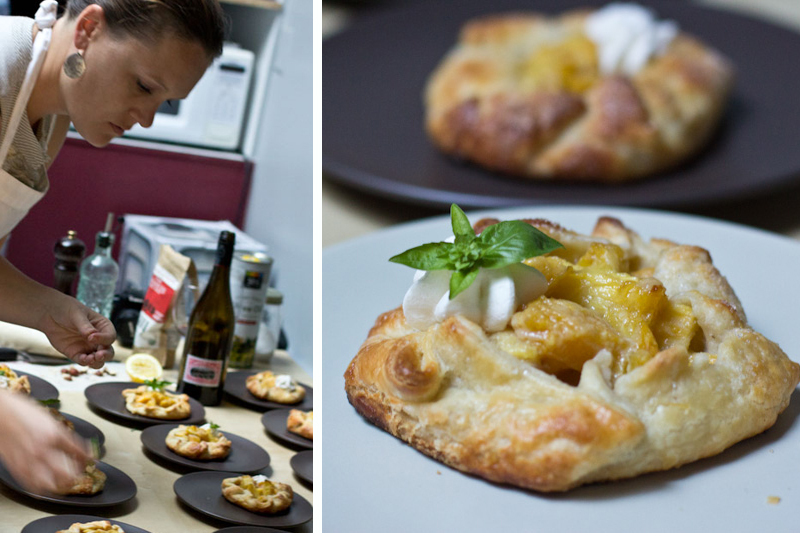 The finale of the evening was a Mango Pineapple Ginger Galette (or rustic pie) by Annalise, from Completely Delicious.  You can also make this at home along her fool-proof pie crust recipe, by visiting her website at CompletelyDelicious.com.
As for Jimmy Santangelo, he also helps to put on a fabulous event and this one was no exception.  We look forward to more events with Jimmy, including the Mixologist SLCmixer this weekend with mixologists from Finca, Wild Grape, Copper Onion, and Pallet.