I feel like a good steak house is hard to come by in Utah. Anyone else with me on that? Or maybe its just that steak houses are not usually my first pick when it comes to a nice dinner out (which usually happens only on special occasions). Either way, it has been a long time since I've really enjoyed some good steak and seafood.  Z Chop Haus offers a European style to the traditional American Steak House making you feel like you're far away from home when in reality you're only an hour drive away. 
The dining room is filled with tall back chairs and slow tunes making you completely comfortable and ready for a hearty meal and a full glass of wine. Or you can sit on the patio, as we did, enjoying the Swiss architecture of the Zermatt Resort and the cool fall air that the mountain evening regularly brings. 
As the evening progresses, lanterns are lit and bread is passed, which at this chop house includes homemade pretzels and mustard seed butter. And if at any point you need a little extra shake of salt or freshly ground pepper, two fancy grinders sit tall at your table.
As for dinner… I perused the menu and decided, well, we've come all this way, maybe I'll just get the lobster.  They say it's flown in daily from Maine, which is hard to resist.  Go big or go home, right?  Well, I did, and so did Josh.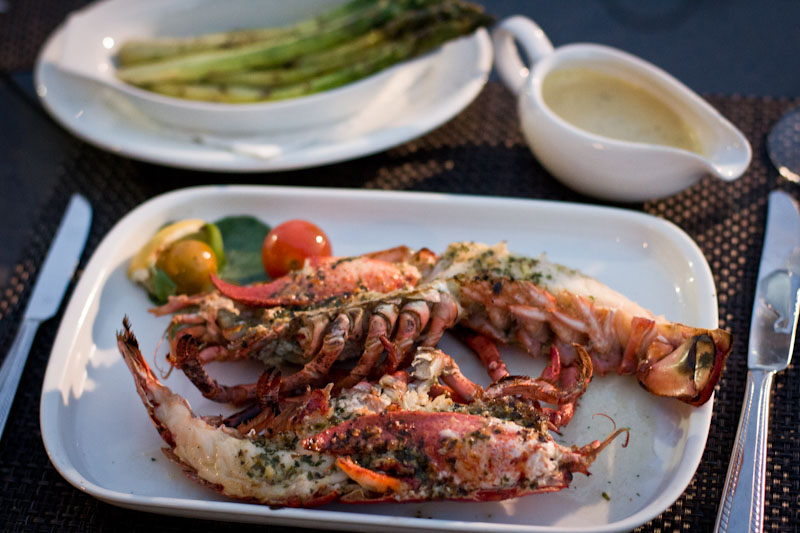 My lobster came pre shucked, so the tender meat was easy to eat.  I dipped each buttery bite into creamy bechamel sauce, which was also a perfect accompaniment to the gumbo grilled asparagus.
Josh ventured out into the unknown… dry aged beef, something we've both been wanting to try for sometime now. He ordered the 21 Day Dry Aged New York Striploin, and enjoyed every bite.  He said, "So good you really don't even need any sauce with this steak."   The extremely tender cut of meat was bursting with earthy flavors from the aging process. The sautéed mushrooms were an obvious pick for a side dish, being the mushroom lover that Josh is.  And they were cooked perfectly with a dark rich reduced wine sauce.
Like I said, we went big on this occasion.  So big that we didn't have room for dessert. Something that we'll have to go back for.  I also would like to try more of their traditional Swiss/German menu items like the Spätzle with Spinach and Tomatoes, Gruyere Fondue, or the Pork Tenderloin Schnitzel.
If you're like me and you've been hunting for a good steak in town, or maybe it's just been a while since you've splurged for high quality steak and seafood, then you should definitely check out Z Chop Haus on the next special occasion that you have.  It's just about an hours drive in the quaint Swiss-like town of Midway, a true getaway from the city.
Z Chop Haus at Zermatt Resort
784 W Resort Dr, Midway Utah
Wednesday/Thursday 5pm – 9 pm
Friday/Saturday 5pm – 10 pm
Sunday Brunch 11am – 2 pm
Reservations at (435) 657-0180