One of my favorite things about summer living near the ski slopes is all of the live music the ski resorts put on. The Deer Valley Music Festival is one we look forward to every year. There's just not much better than laying our your blanket on soft green grass, munching on a picnic and listening to live music. Both Deer Valley and The Canyons offer great concerts all summer long that you can bring wine and a picnic to.
This weekend we go the chance to see the Utah Symphony play Michael Jackson tunes with vocalist James Delisco.  I must admit, I am a HUGE Michael Jackson fan. When I was a kid my very cool cousin introduced me to his music when and it just stuck with me.  Now every time I hear it I just light up and get almost giddy (this can be embarrassing for Josh). So you can imagine how excited I was to see a Michael Jackson concert, even if Michael Jackson himself wasn't going to be there.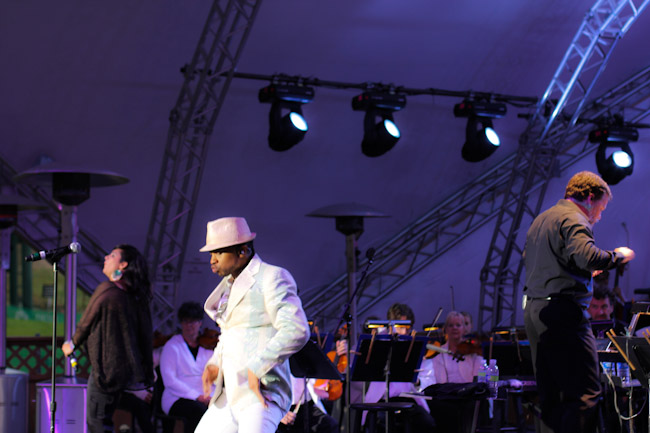 Deer Valley has a great line up for their summer music festival, which just began this weekend.  So you have plenty of time to catch a show on the slopes.  Here are a few recommendations:
Get there early to reserve a spot on the grass- like around 5:30 or earlier.
Bring something entertaining while you're waiting for the show to start. Josh and I  found a good spot on the lawn then sat and waited for an hour and a half for the show to start.  Had we planned better we would have brought books to read or cards to play. I hope this isn't cheating but you could also bring a blanket and lay it at your spot then you can go walk around Main Street for an hour or take the funicular up to see St. Regis.
Bring a picnic that you can snack on through out the night.  If you're like me I like to eat and listen at the same time so we bring a picnic full of little things to munch on.
Deer Valley also has amazing picnics that you can order ahead of time.  They come filled with antipasto bites like olives, heirloom cherry tomatoes, artichokes, and cheese, along with a baguette of bread, brie, and either salmon or beef.  And there's always a few desserts and bottle of wine in the basket as well.
Don't forget your wine work if you're bringing wine with you. (although I'm sure you'd be able to borrow one from someone near by)
Bring an extra blanket or jacket because it cools down throughout the evening.
Bring friends!
Here is the full list of Deer Valley Music Festival Concerts.  I'm also super pumped about Pink Martini and Earth, Wind and Fire.