I tried Finca for the first time over lunch and I'm already planning a time soon to return!  A friend from work and I ventured over to try some tapas while we talked about her upcoming trip to Spain.  Of course we talked about an assortment of things, life in Utah, dating, our parents and siblings, and good food… tapas can bring about the best conversation!
The menu at Finca lists enough compelling options that its seriously hard to choose, lucky for the two of us we have similar tastes so we both leaned towards the tapas with either asparagus or mushrooms.  I think it's best to eat tapas with people who are: 1- not picky and 2- have similar tastes as you, since you will be sharing everything you order.
We started by ordering the Mussels, recommended to me by a dear friend, which are served with chorizo but sadly they were out of them that day.  Luckily they still had the wild mushroom tapa served on toast with pinenuts and the sauteed asparagus served with a poached egg and ham, so we ordered up one of each of those.  And I feel you can't have Spanish tapas without ordering croquetas so we ordered some of these as well. As our food came out, so did my camera, it was all bautifully plated, so inticing it's hard to stop and take a photo before taking a bite.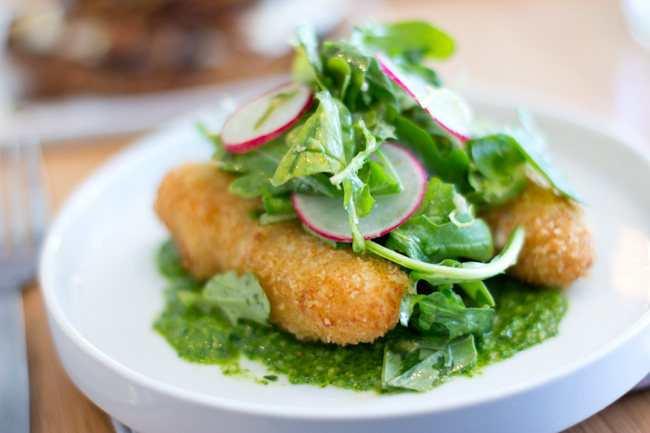 As I took a bite of the crispy croquetas I couldn't help but remember my summer in Spain and my first bite of true Spanish croquetas outside a bull fighting arena.  I remember the unusually cool summer evening, the plaza filled with restaurants and energetic people coming to and from the arena, and I recall and menu filled with tapas I could hardly read or understand but one that I knew would not disappoint: croquetas. And ever since then, I've been hoping for a similar bite to what we had that evening.  At Finca I found their flavor and style of cooking to be true to what I had that summer in Spain.
We enjoyed each of the tapas we ordered and would reorder them again if there wasn't so much more on their menu that I would like to try!  Over the summer I'll be returning to have more tastes of Spain right here in Salt Lake and lucky for my friend, she'll be sitting on some beautiful plaza eating traditional Spanish food soon as well. Andwhen I do come back I'll be having some cocktails too because I've heard their mixologist is especially good at his job!
Lunch: Mon-Fri: 11am-5pm
Dinner: Mon-Sat: 5pm-10pm
Brunch: Sat: 11am-3pm, Sun: 10am-3pm
Late night – Tapas & Cocktails: Fri & Sat: 10pm-12am