The private gated communities with second-home winter retreats, concierge services and members-only restaurants of Park City are out of reach to most of us ordinary Salt Lake folks, but recently I discovered a way in. 
Talisker on Main
is meant for the public, though it offers a high-end, elite-like experience.  The evening started with a perfect peach bellini and only went up from there.
Talisker
owns
The Canyons Resort
,
The Park City Waldorf Astoria
at the Canyons,
Tuhaye Golf Course
, Homes at
Empire Pass
 in Deer Valley and
Red Cloud Properties
.  Their reputation extends well into the black books of Park City's most acclaimed patrons.With several members-only clubs and restaurants, their insider society and luxurious brand seems inaccessible.However, they have a small, intimate restaurant open to the public. First opened during the 2009-2010 ski season, the establishment is now looking to find a place on locals' 'must eat' list. I was fortunate to experience Talisker on Main recently.
The photos of club members that line the walls of the dining rooms, the chess tables in the living room, the wall of wines and the open-air kitchen in the main dining area all work together to greet you and make sure your evening is complete.  Should that not be enough, keep walking and you'll find a small patio with a cozy fireplace and twinkle lights strung above the candle-lit tables and comfortable outdoor seating.  That should do it.
Yes, the atmosphere welcomes you in for the evening.  But it's for nothing if the food doesn't match.The evening started with a bellini and ended with caramel and chocolate with much to daydream about in between.  I can't remember a table where I enjoyed my meal more than at Talisker on Main.  Complete with wine pairings and small bites from the chef, a new level of satisfaction found me after every bite.  Here is our evening's menu:
Roasted Corn Soup
Roasted Brussels Sprouts
Red Shrimp
Carrot and Zucchini Terrine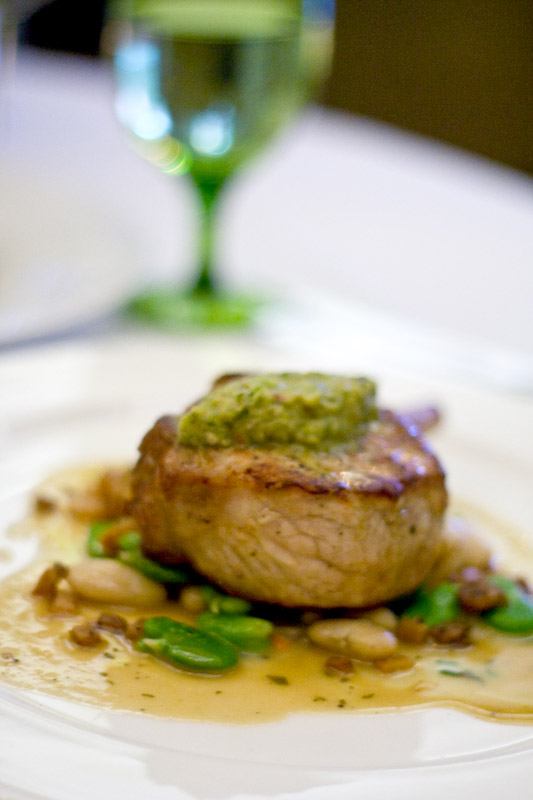 Pan Roasted Lamb Loin
Buttermilk Fried Chicken Breast with greens and a honey biscuit
Sous Vide Duck Breast
Aguacate Cheese Torte
Gelato Trio
Sorbetto Trio
Provencal Torte
Warm Chocolate Tart
My favorite tastes of the evening:
Appetizers-  the red shrimp appetizer with all day braised pork shoulder over spring peas; the braised pork was perfectly moist and flavorful and the perfect combination for the spring peas
Entree- the pan roasted lamb loin entree with oyster mushrooms, juniper quinoa, and a fennel and tart cherry saute; this quinoa was exceptionally full of taste and the mushrooms were perfectly cooked adding an earthy flavor to the dish
Dessert-  the Pistachio Sorbet (perfectly creamy and slightly salty)salty ice cream is a relatively new phenomenon that I've fell in love with and this pistachio flavor was incredible.
And I won't soon forget the Warm Chocolate Tart which came with a rich caramel sauce and homemade marshmallows; the caramel, chocolate, and marshmallows were the perfect combination of familiar flavors with an upscale twist to create a decadent and tasty dessert.
I enjoyed enjoying the lavish lifestyle if even for just one evening.  On your next trip to Park City from Salt Lake, go there.
815 Main Street
Park City, UT 84060
Reservations 435-658-5479
Hours:  5:30-10:00pm