While I certainly don't need an excuse to return to Vinto, their summer menu items definitely enticed me for another visit.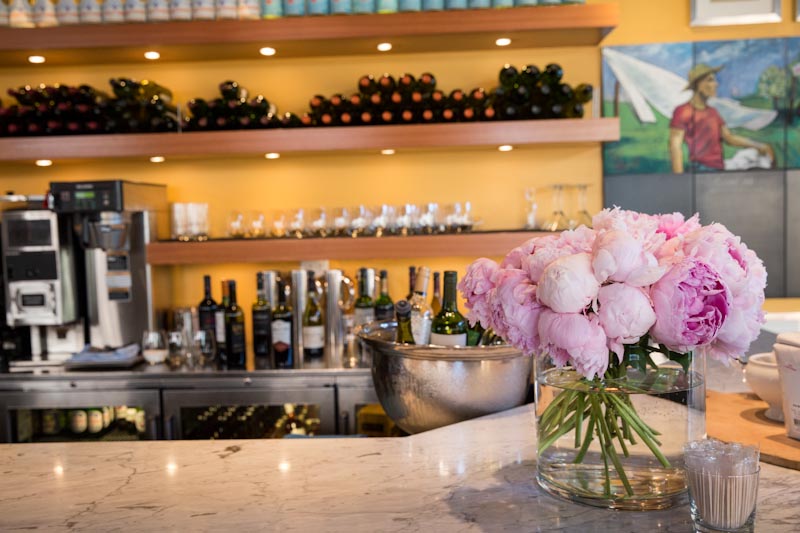 Vinto Pizzeria is one of our staples in Salt Lake.  Their prices entice as much as their food.  Whether I'm in the mood for a light salad or a few slices of hot pizza, they deliver (not literally but they do offer great take-out!).  We have our favorites on the menu but when a seasonal special gets into the rotation, I like to try out something new.
When the warm weather hit, they also quickly alter their cocktail list.  There was no hesitation after a quick glance at the menu. The Sprezzatura was an easy choice with limoncello, peach nectar, fresh huckleberries, mint and lime. The name literally means easy to drink, and it is!
The Ubriaco includes dark run, campari, sweet vermouth, and fresh orange, an perfect match for campari lovers. Ubriaco translates to drunkard so as the name warns, this one is boozy!
We started with proscuitto wrapped melon salad, a fresh and flavorful beginning to the meal with a sprinkle of grey sea salt and a garnish of fresh mint. Then, we had their Verdura Chopped Salad which is currently loaded with all of the best spring veggies. The chopped salad alone is a dish I return for.
On this particular visit they had a lasagna special that caught our eye (photo at the top). Their Spring Lasagna was loaded with veggies like asparagus, zucchini and squash, between layers of fresh pasta, and topped with crispy cheese and garlic oil. We literally fought over the last bite, it was that good.
Summer pizza options at Vinto include toppings such as pear and brie, mushrooms and shrimp, and spinach and artichoke hearts.
Every meal at Vinto must end with either a scoop of their famous house-made gelato or the Butterscotch Budino.  It's a hard choice, so you should really just order both!
Though the house favorites remain, it's nice that they keep things fresh at Vinto, this way I have more reason to come back!
Vinto Pizzeria
418 East 200 South
Mon-Thurs 11am-10pm
Fri-Sat 11am-11pm
Sun 4pm-9pm