From Scratch is a perfect place to meet up for lunch on these cool spring days. The delicious house-made dough, crispy and warm from the wood-fired oven, hits the spot. Tucked into a space on Gallivan Ave, just off of 3rd south, the dining space is casual yet trendy, with restored wood walls and tables and chairs reminiscent of a European café. The restaurant is all about making as much as possible from scratch. The in-house Austrian flourmill provides a fresh base for the pizzas, pastas, and breads. Cooks whip up condiments such as ketchup, mayo, mustard, and jam.
The Risotto Cake was a hearty appetizer. The golden-brown patty was topped with arugula and fire roasted red pepper sauce that we couldn't get enough of. Luckily we kept the plate so we could dip our pizza crusts in it later- we didn't waste a drop!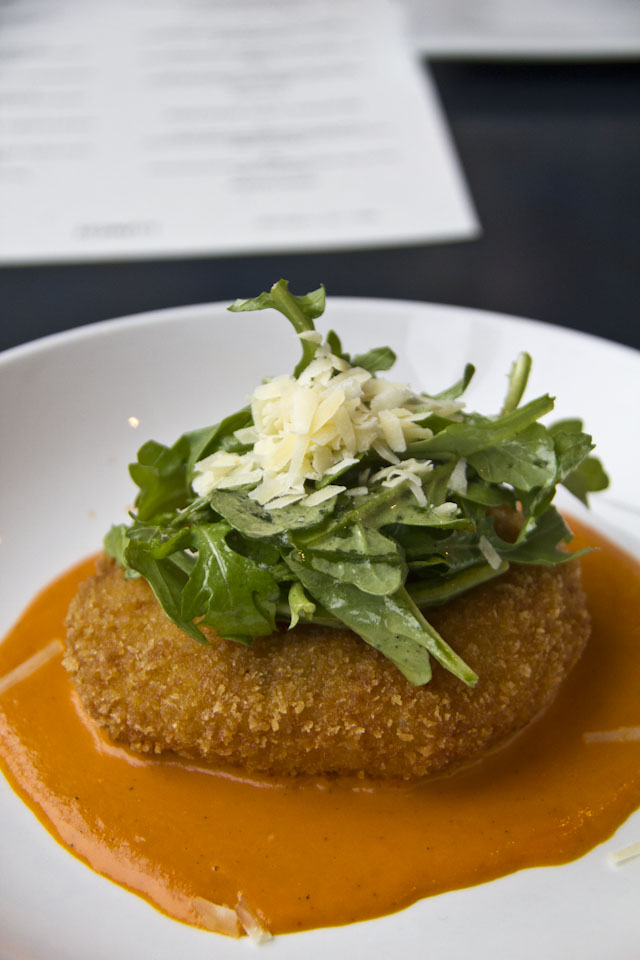 The salads all sounded good, but we settled on the Honey Apple Salad because the combination of creamy ricotta on crisp apples sounded incredible- and it was! The salad went fast, next time we might have to double up on the greens.  I'm looking forward to trying the Fire Roasted Beet Salad with goat cheese and candied pecans.
We had trouble deciding on just one pizza as well, but agreed that we couldn't go wrong with mushrooms, caramelized onions, goat cheese, and mozzarella.  Now you may be wondering- does freshly milled flour actually make a difference taste-wise, or is this just another hip but relatively unremarkable fad? The taste of that pizza crust convinced me that fresh flour is no publicity stunt. That dough is something special. Yum!
Don't like pizza? From Scratch also offers a burger, short ribs, and pasta.
62 East Gallivan Ave