With a new baby in tow, we aren't doing much traveling this summer but we did get our fix with a few short stay-cations. Last week we drove just a few minutes and checked into pure extravagance, the Grand America hotel. This being one of our first nights away from home with a new baby, it was also nice to know we were only a short drive away if we forgot anything. Our minds at ease, we fully relaxed, feeling as if we were miles away in some exotic destination.
The Grand America makes you feel like you are somewhere dreamy, somewhere new and distant, somewhere not-Salt Lake. Just look around, all of the details from the flourished iron railings on each patio, to the fountains, gold frames, and extravagant chandeliers, all of these are definitely giving a boost to what you think of when you imagine Utah travel.
The first thing we did after arriving was change into our swimsuits to sit by the pool.  Sipping on cocktails, and getting updated in the latest issues of our favorite magazines, we enjoyed being poolside for at least a few hours.
A bonus for us was that we could stay in a suite with a kitchen, so we could make a couple meals inside and enjoy the peacefulness of being alone. For dinner that evening, we made an easy vacation meal, Apricot and Almond Couscous Salad, you can find the recipe on the Vintage Mixer blog.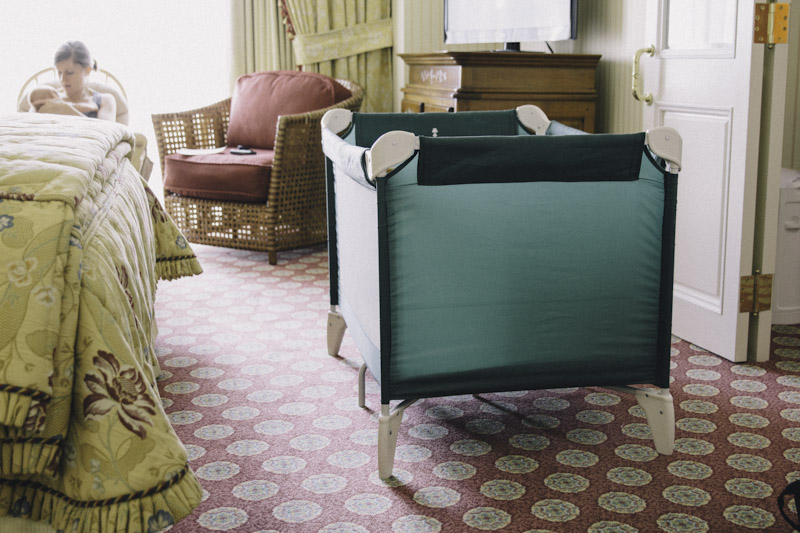 Also, the accommodations came with everything we needed for a baby, so we could leave all of the baby gadget we just acquired at home (crib, baby bath, rocker, and they even provide a stroller!).
A trip to the grand, would not be complete without one of La Bonne Vie, the hotel bakery, French macarons. And you should have a few… our favorites were the pistachio, salted caramel, and vanilla. Oh and we had some white chocolate pistachio dipped strawberries too. It was, in fact, a vacation, even just for a day!
Food-wise, the real extravagance came from the Garden Cafe for lunch the next day.  We devoured a beautiful Peach Salad topped with granola, yogurt, and honey (a brilliant lunch-take on the fruit and granola we all enjoy for breakfast!). We also grazed the buffet, finding it hard to choose with all of the well prepared dishes. Some favorites were the trout, mediterranean pasta saladd, and of course the bread pudding with caramel sauce.
We found Grand America to be the perfect getaway close to home. Spoiled and full, we returned home in a matter of minutes!
More goodies at La Bonne Vie