I had the pleasure of hanging around here over the holidays.  My family all traveled across country to have a white Christmas in Utah.  We enjoyed all that the snow and cold weather have to offer, including delicious coffee drinks and baked goods.  If you've been reading this blog or the Vintage Mixer for a while now, you know that not only do my husband and I love coffee, but we also are part owners in a local coffee roasting business, Charming Beard.  All that to say, we know good coffee, so when Java Dolce re-launched their business in Sugarhouse we had to go and try it out for ourselves.
Summer Shumway, the owner of Java Dolce and a coffee epicure herself, prides herself in the every detail of her coffee business.  Not only does she import tasty coffee from Italy (hopefully soon she'll find a local bean she enjoys!) but she also serves up the best pastries in town, from Les Madeleines Bakery.  Together, Java Dolce and Les Madeleines have come up with a signature treat, the Crownie.  The Crownie is a brilliant combination of a decadent brownie and classic chewy chocolate chip cookie.  Their other specialties include a childhood favorite of mine, Cinnamon Toast, and sweet coffee drinks like their  Vanilla Almond Latte (pictured above).  For non-coffee drinkers, or those who just don't prefer the taste of coffee, Java Dolce also offers Crio Brü, a local hot chocolate drink made from cocoa beans and local Farnsworth apple cider.
In my personal opinion, one of the best parts of Java Dolce is it's location.  As infrequent blockbuster movie goers, Josh and I find ourselves most often viewing movies either at home or at the dollar movie.  Java Dolce is located right next to the Sugarhouse dollar movie.  Now I know where I'll be picking up my movie snacks!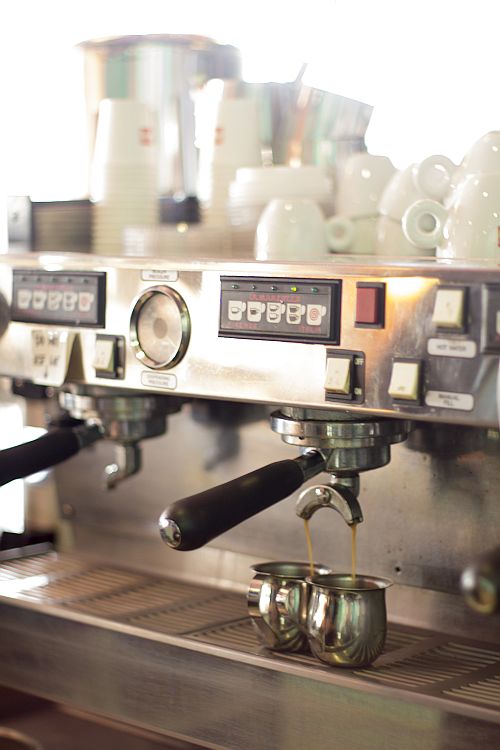 Java Dolce
2236 South 1300 East, Sugarhouse