Last weekend we celebrated in true Talisker style with a slew of the head chefs and their best creations coming onto their fall menu.  This Taste of Talisker SLCmixer, was a first of its kind and one that we will all remember for some time – (especially the flavor of the pumpkin gnocchi pictured above)!
We all gathered at Roth's Culinary Scene, a kitchen showroom filled with top of the line Wolf and Sub-Zero appliances to meet and congratulate Talisker's new head chef, Zeke Wrey.  Now I've known Zeke for sometime now and have enjoyed his food from the first time I tasted it so I knew how great of a thing it was when they announced his promotion to head chef.  The very first time I tasted some of Zeke's creations I had promptly returned from a trip to Europe, still jet lagged and filled with tastes of Rome, Tuscany and Paris, yet his foods blew me away! Instantly, gratefulness swept over me to live in such a budding culinary town.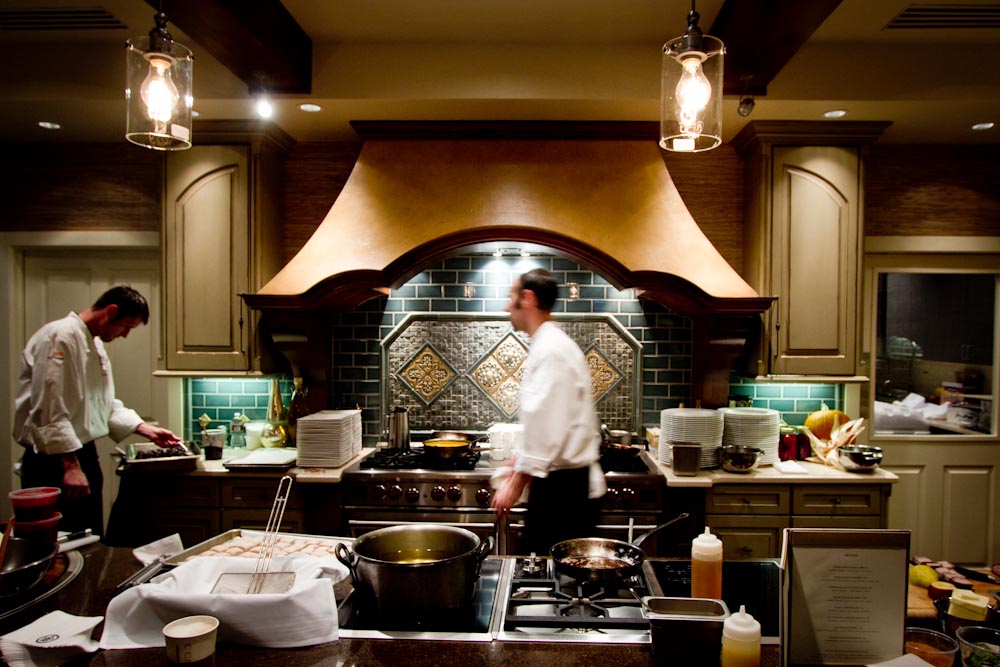 Some of you may be asking, "What is Talisker exactly?"  Talisker owns over 14,000 acres of land around and in Park City, offering world class lifestyle, skiing, amenities, and of course food.
On this evening, Talisker, brought all of their top chefs to the kitchen (sous chefs were put in charge at the restaurants for the night) so we were to have a feast of the senses! The chefs split up into a couple separate kitchens in the Roth showroom to create pieces of their fall menus.  Talisker has several restaurants in Park City and specifically at the Canyons Resort.  Here are descriptions of a few of them:
Talisker on Main – The cornerstone of the Talisker Restaurant Collection, this culinary standout was named the "Best Restaurant in Park City" two years in a row by Salt Lake Magazine. This restaurant focuses on sampling many distinctive regional flavors with a constantly evolving menu inspire by the fresh produce available during the changing seasons. Located on historic Main Street, Talisker on Main also offers one of the best wine selections in Park City.
The Farm – named the "Best New Restaurant in Utah" in February 2012 by Salt Lake Magazine and features an innovative menu that focuses on locally sourced ingredients from farms and artisans within 200 miles of Park City. Located in the heart of the Canyons Resort Village
Bistro at the Canyons –  the first certified glatt kosher restaurant open all winter season at any ski resort in the nation, and the latest addition to the culinary family at Canyons.
Slopes –  embraces a "living well" mantra and focuses on a balance of freshness, variety, flavor and nutrition while emphasizing seasonal ingredients. The menu features both healthy and hearty options with a number of selections for those with special dietary needs. Located in the Waldorf Astoria, this amazing restaurant also features an impressive selection of wines.
Throughout the evening we were treated to some of the best flavors our state offers, as Talisker prides itself on using local and seasonal ingredients. We also were thrilled to try true kosher foods from the chef at Bistro, the first glatt kosher restaurant at any ski resort in the nation.
We also thoroughly enjoyed the cocktails and wine that Sean Marron introduced us to. Their seasonal cocktails feature a pumpkin cocktail, a yellow beet cocktail and a few others, all of which were enjoyed by everyone. And the wines available were extensive and tasty!
Here are a few more shots of the evening.  As you can see, the folks at Talisker don't overlook the details, their culianary craft is careful and beautifully constructed, every bite being unique and bursting in flavor.
Because much of what they serve at every Talisker restaurant is seasonal, their menus are constantly evolving. This fall or winter will be the perfect time to drive up to the beautiful mountains of Park City and taste for yourself, the fresh inventive flavors that Talisker restaurants offer!
For a list of our upcoming SLCmixers please visit SLCmixers.com.